Archive for February, 2011
February 16th, 2011. Published under Releases. No Comments.
500 pressed on color recorded at the GAF Church I St. in Bellingham by Rich Canut Mixed and Mastered by Doug Krebs at DIG recording in Portland OR
Razorcake Review
Both of these bands would have been perfect for early-'90s Epitaph (especially pre-explosion Rancid), and I mean that in a good way, since there seems to be a dearth of non-parrot punk bands who hold older ideals nowadays. (Fashion's fine, but fashion > heart + talent = nope.) Axes of Evil: Metal-tinged, full-throttle, mindful punk in the spirit of Today's Empires…-era Propaghandi. Hollowpoints: Lead by a voice as ragged as a tattered flag, they're a serious-politics, serious-partying punk. In a perfect world, these guys would be as big as Anti-Flag and have their patches on as many assflaps as the Casualties. Both these bands remind me of others who played in this general vein that never got their due, but I still regularly play, like Space Cookie and Mea Culpa.
–Todd Taylor (New Regard Media)
February 16th, 2011. Published under Bands. No Comments.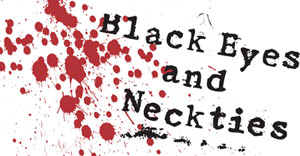 Black Eyes and Neckties Stiletto
"Punched a wall recently? Here's what you should have been listening to at the time. Although nothing could hope to compare to Black Eyes and Neckties' frenetic and bruising live show, Stiletto sure goes about it like they truly couldn't care less. Sharp-edged guitars, propulsive drums, organ and voice are all they need to get inside your head and command you to move. With songs about zombies, werewolves, love, death and the intersections between, this is an album for when you want your anger tempered by humor and hooks. Buy the record and go see their show. You'll be glad you did."
- Bellingham Weekly, December 2004
Black Eyes and Neckties called it a day back in 2009 and former members can be caught playing in various projects such as Baltic Cousins, and Dog Shredder.
Check out the Black Eyes and Neckties site or the Clickpop records site for more info.
February 16th, 2011. Published under Bands. No Comments.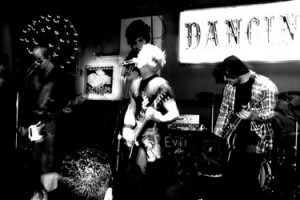 Since forming in 2002 the Axes have been spreading their brand of speed metal punk far and wide. Since the release of the debut album "Married To America" on New Regard Media in 2004 the band has completed four tours of the west and continue to work hard. A limited split 7″ with the Hollowpoints came out on New Regard Media in December of '05 and recieved good reviews from Punk Planet, MRR, and Razorcake. Axes have shared the stage with Propagandhi, Real McKenzies, the Briefs, Toxic Narcotic, Bristle and many others in 150+ shows.
Visit their website at AxesOfEvil.com
February 16th, 2011. Published under Bands. No Comments.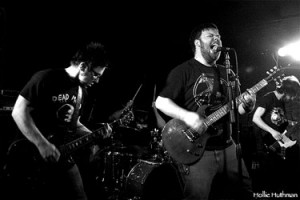 One hundred and forty-three shows. Three microphones, two guitars, one bass, and one drumkit. One full-length (Wants You Dead, 2005), one EP (Vs. The Kids, 2003), and one compilation appearance ("People At This Laundromat Need To Mind Their Own Fucking Business" from Damage, Destruction, Terror, & Mayhem, 2004). Three tours. We've played shows with 400 BLOWS, ANDREW WK, CAUSTIC RESIN, EARLY MAN, FATAL FLYING GUILLOTEENS, FLESHIES, HARKONEN, PRIESTESS, THE SWORD, THREE INCHES OF BLOOD, TOYS THAT KILL, ZEKE. Members spread throughout Bellingham, Seattle, and Portland. Members of USS Horsewhip now play in Seattle bands Police Teeth, Black Breath, and Cold Lake.