February 16th, 2011. Published under Bands. No Comments.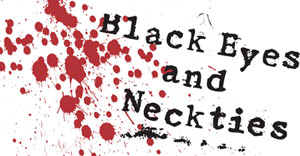 Black Eyes and Neckties Stiletto
"Punched a wall recently? Here's what you should have been listening to at the time. Although nothing could hope to compare to Black Eyes and Neckties' frenetic and bruising live show, Stiletto sure goes about it like they truly couldn't care less. Sharp-edged guitars, propulsive drums, organ and voice are all they need to get inside your head and command you to move. With songs about zombies, werewolves, love, death and the intersections between, this is an album for when you want your anger tempered by humor and hooks. Buy the record and go see their show. You'll be glad you did."
- Bellingham Weekly, December 2004
Black Eyes and Neckties called it a day back in 2009 and former members can be caught playing in various projects such as Baltic Cousins, and Dog Shredder.
Check out the Black Eyes and Neckties site or the Clickpop records site for more info.